RealWorld Marketing represents leading manufacturers of consumer products to Amazon North America.
We've been providing Amazon vendor management of leading brands since 2007, ensuring that products are optimized, merchandised, advertised and promoted for maximum results.
At $171 billion in North American sales (2019), Amazon represents an opportunity that your business can't afford to get wrong.
Online shopping is growing faster than any other retail segment, and Amazon is the 500-pound gorilla in the online space. In fact 44% of shoppers start their searches for products like yours on Amazon.com.
Doing business with Amazon has become increasingly complex. With multiple business platforms—each having its own strengths and weaknesses—there is no one-size-fits-all approach.
Every manufacturer needs a unique strategy based on their goals and objectives. Whether you're just getting started or have a long history with Amazon, we can help!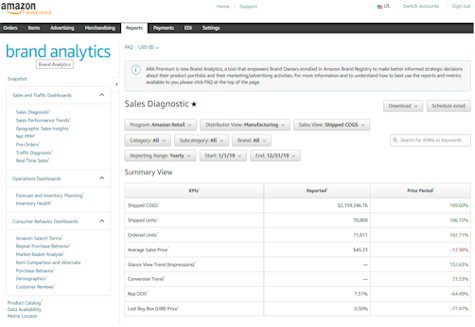 What RealWorld Clients are Saying
We needed help understanding and navigating Amazon's complexities in order to optimize our business. RealWorld does an outstanding job of managing all aspects of our Amazon business, including product setup and merchandising, advertising, promotions, maintenance and annual program negotiations. Marty and Lisa are very accessible and are always able to answer our questions. As a result our Amazon business runs smoothly and volume increases each year. We're very happy with the relationship and would highly recommend RealWorld!
We chose RWM because we were recommended by another vendor to use Marty's company to set us up on Vendor Central. There are huge benefits of using RWM as your vendor liaison and broker for Amazon's Vendor Central. First Marty and his team are top notch professionals and understand all the ins and outs of the complicated Amazon system and set up process. He and his team took the lead to set up our A+ site pages to optimize our exposure right out of the gate with Amazon for our product offering. In addition, Marty has in place a team that helps guide you and implement the many marketing opportunities that Vendor Central has to offer. They set up the best budgets and schedule to again optimize your marketing potential. Marty is also very proactive in informing us of changes and additions to the system within Amazon as well as always available for any questions or help we may need. He has always been there if needed with any shipping or billing disputes with Amazon. I feel we are very blessed to have been introduced to Marty and his team and how they have successfully guided us through this opportunity. Can't say enough positive remarks about working with RWM.
We are pleased and happy to recommend Marty Proops (RealWorld Marketing, Inc.) as a trusted and proficient marketing professional for Amazon. His intelligence, diligence, and outstanding performance in his engagements have been very impressive. Marty and his team demonstrate excellent sales & marketing skills, which are essential to be a success in our business. His team also generates good ideas, and they know Amazon's systems, all while working effectively and efficiently even under pressure. Marty Proops has been a valuable asset to my team.
Marty Proops first introduced our company to the opportunities that Amazon offered as early as 2012. After working closely with RWM we very quickly realized that Marty had a comprehensive understanding of the complexities of working within the Amazon Ecommerce channels. He has consistently exhibited a keen awareness of the ever evolving contractual, fulfillment and marketing practices of Amazon, and his ability to problem solve has been very effective. RWM has been instrumental in positioning our company to have a very positive and financially rewarding experience in working with Amazon. From the outset projects of onboarding and contracting were handled most efficiently. The process was largely handled by RWM with only a limited amount of our company staff resources required. The ongoing account management has been constant throughout the relationship, and RWM is able to interact with the Amazon support channels most effectively. RWM also maintains a good understanding of the marketing offerings and capabilities within the Amazon channels, and here also effectively manages the execution of marketing strategies. While working with Amazon we have never experienced an issue that RWM couldn't address satisfactorily.
We chose RWM based on the principal trait of its founder and owner. His persistence to represent our line was indicative of what we could expect as Marty pursued getting our product listed with Amazon. Marty also clearly demonstrated that he had a long history working in our category at Amazon and that he had a strong working relationship with our Vendor Manager. We felt that signing with Marty would expedite our desire to grow our e-commerce business through Amazon. One of the clear benefits of working with RWM is their familiarity with all of the marketing opportunities to support our growth at Amazon. Their ability to recommend impactful campaigns and suitable investment levels has had a measured impact on our success. Plus, RWM embraces new Amazon marketing opportunities, thoroughly preparing their vendors by ensuring they understand the benefits and limitations of new programs. In addition, Marty and his team are highly accessible and responsive to all of our needs.
Marty brings vast knowledge and experience in working with Amazon. He understands the structures and the details, from initial product set up to detailed reporting and analytics to marketing and sales. His communication, organization, and follow through has enabled our company to grow its business with Amazon.
Yes, there ARE companies you can totally depend upon to do what they promise. RealWorld Marketing is one of them. From the moment I hired Marty Proops, he and his capable team were "on it", navigating my company through the complexities of Amazon. I am a successful Amazon Vendor with years of experience on the platform, but have done it all on my own. Until now. For a recent, critical new product launch, I knew I needed expert help. And boy, did I get it. RealWorld Marketing is incredibly adept and experienced in every area of Amazon. I am enormously pleased with the quality of their work and the speed at which they accomplish things. RWM is accessible no matter how big or how small an issue, and they are always friendly and helpful. My detail pages and brand store have gone from just OK to WOW. Thank you Marty. It is an honor and a pleasure to be working with you. RWM is a trusted and valuable component in my company's success story.
While we had a (limited) presence on Amazon for two years, we were not satisfied with the results. We started working with Real World Marketing this year and the results have been amazing. We have beaten all of our goals!

Marty and his team created a brand storefront, manage our advertising and promotion strategy and have developed A+ content. Marty, Lisa and Paul are quick to reply to our questions or requests and have made sure that their work meets our expectations. It's a pleasure to work with Marty and the team. Their customer-focused attitude and in-depth knowledge of Amazon have helped us grow our Amazon business.